It's taken me a bit to return to Juana Inés, mainly because I have been running largely on rage and when that is the case I turn, very decidedly, to The Last Kingdom and The Musketeers and Miss Fisher's Murder Mysteries and other violent period dramas (with an occasional helping of Wynonna Earp or Buffy the Vampire Slayer), because I am nowhere near as nice a person as folks seem to think and watching those shield walls and one-sided swordfights is deeply satisfying. (There is a lamentable lack of punching and swordfights1 on Juana Inés, but, obvs, it shouldn't be there, since it would probably be historically inaccurate to have ninja nuns. In Juana Inés, that it.2)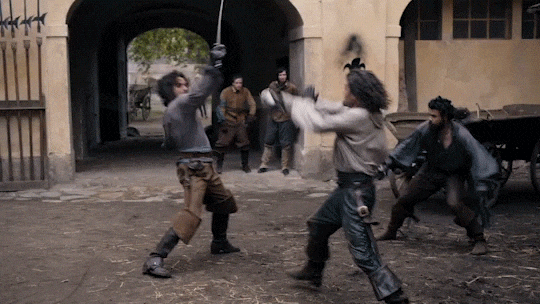 "Paral el alma no hay encierro," the title pulled straight from one of Juana Inés's poems,3 hurts to watch, as Juana Inés's brilliance is tucked away in a convent that would destroy her, her light almost snuffed out.4 It is interspersed with awkward acknowledgements of race and an intense, terminal exploration of women in seventeenth century New Spain. Ignacio, Juana's faithless suitor, remains the weakest character link, at least for me. Similarly, Juana Inés's treatment of race continues to be awkward, although, in tantalizing fits and starts, it seems to be trying for something more, perhaps most of all in the discussion between the virrey and a few members of his counsel about slaves imported from Africa (they're causing all these problems, complains the virrey, and we don't need them anyway, we've got the Indians—which is probably as close as Juana Inés, or just about anything focusing on creoles, will come to admitting native slavery), and, later, when an irate merchant, who happens to be of African descent himself, goes up against the virrey's decision not to allow him to disembark the people in his hold at ports in New Spain. (The merchant also pops up for about two seconds which is kind of weird. His costume is super rad though.)
I'm curious about the choice, and prone to read too much into it: there are records of people of African descent holding slaves themselves.5 Similarly, more than one conquistador was a man of African descent; some were free, some were freed, and some were enslaved. One of them, Juan Garrido, went on to become the first person to grow wheat in the Americas—if you read colonial literature, half of which is old letters complaining about your lousy neighbor (those are, alas, universal), or asking for more money, you've run into Juan Garrido and his wheat.6 So, as an exiled lit person, I am curious: does this merchant reflect people like Juan Garrido? Does he reflect people like the Brazilian Antonio José Dutra?7 Or is he just there, and am I reading way too much into a casting choice?
Meanwhile, the brilliance of Hernán del Riego's villainous Padre Antonio Núñez de Miranda shines in his absolute conviction that he is destroying Juana in order to "save" her. He will, in fact, destroy anyone and everyone, and do so absolutely convinced that it is God's will. He is not the sort of man with whom one hopes to deal, for the fanaticism will continually blind him to his own encroaching evil. I've got to say, I love these complex and horrible villains—those who are villainous for the sake of villainy get boring awfully fast.
Para el alma no hay encierro

ni prisiones que la impidan

porque sólo la emprisionan

los que forma ella misma.

—Juana Inés de la Cruz8
In a show filled with snappy dialogue (like, really, the writing is really good), Arantza Ruiz's Juana Inés gets the lion's share (as it should be, obviously)—and, because whomever adapted this was a genius, much of her words paraphrase, or directly quote, her own works, while tapping into the frustration and fear of life as a genius who happened to be young, beautiful, female, and illegitimate—every last one a strike against her in the seventeenth century. Núñez de Miranda might think he is saving her, but he is trampling her, a fact made more egregious when she asks him to serve as her confessor.
Much of this episode is, indeed, pulled straight from Sor Juana's biography—she did indeed go, first, to the Discalced Carmelites; unsurprisingly, she hated it, and did indeed become quite ill. Núñez de Miranda would indeed become her confessor, something I have never entirely understood—perhaps Juana Inés, in her genius, knew she needed to keep her enemies closer, and so was trying to keep tabs on the man who would eventually destroy her.
The secondary characters—Juana Inés being, of course, our hero, and Núñez de Miranda our fanatical villain—remain a rich but inconsistent tapestry. Mauricio Isaac's Virrey Antonio Sebastián de Toledo y Salazar is still a man of questionable morals, in many ways more modern than Núñez de Miranda—he is far less concerned with minor details such as bastardy (doesn't affect her genius, he points out) and lies than is the priest, because, after all, that's why we have confession, isn't it? (In case you're wondering—I feel his depiction is fairly accurate to the era; the virreyes were known for supporting Juana Inés—that's pretty much how she managed to make it as long as she did—after all, it would, years later, be a virrey and vireina, leaving Mexico, who would smuggle her books to Spain, where they would be published.) Also, he still looks spectacularly like the man he portrays, which makes me a little more disposed to like him.
There are, naturally, some rather soapy parts to "Para el alma no hay encierro," a number of which center around Lisa Owen's Virreina, Leonor Carreto de Toledo. Ah, writers: could we have been less soapy with the middle-aged woman? Now, I am not entirely sure what Juana Inés's classification at the viceregal court would have been—she's a tutor, sure, but likely also some manner of lady in waiting or lady of the bedchamber or something—but it might well have been quite natural, given whatever her position was, for her to assist the Virreina in undressing (and in putting on old-timey lotion).9 Or perhaps it was really as startling as Juana Inés's face tells us it is. Certainly, Leonor Carreto's hysterical response to the eventual revelation of Juana Inés's Big Dark Secret (her parents aren't married! gasp!) is, well, melodramatic, which is kind of irritating given how infrequent well-written middle-aged women are. But Leonor shines as the episode goes on, seeking out Juana Inés like an avenging angel and finally carrying her away just in time to save her life. It's super dramatic, and pretty much a melodrama, and it's pretty great.
I have little doubt that it will take me a bit to get back to the third episode of Juana Inés, "Lágrimas negras de mi pluma,"10 mainly because I need some swashbuckling and also because I just noticed that Rogue One just hit Netflix. The things of which I was unsure during "Miradme Al Menos" remain, as it were, uncertain—but some of that is simply that I am no watcher of soaps, and never have been. In addition to ripping out our hearts, "Para el alma no hay encierro" also sets up the future: we meet a clergyman who will be an important figure going forward (he's the guy who agrees with the virreina that, oh yeah, can't have the clergy thinking they're above the virreyes—which says he, for one, knows how to politic); we see Leonor go from hysterical matron to scheming, avenging angel; we watch Juana Inés topple, only to rise again, thanks, apparently, to whatever Nahautl healing magic11 has been used on her. And the framing device—Arcelia Ramírez's dying genius, grasping to hold onto books, memories, words, life—remains as heartrending as ever. Our Juana Inés, both the youth and the dying woman, remain a woman, not a hollow figure of national pride.
But most, most of all? I love how much respect, and love, the writers and producers and directors have given Juana Inés and her words—her beautiful, strong words, which have come down well more than 300 years, and which remain strong and stirring even now. Her words speak, in her dialog, even in the titles of Juana Inés's episodes. It isn't that often I get to partake of my favorite 17th century Spanish-language texts on the small screen, and I do thrill to it.
---
Notes
1 I say this, of course, as someone who tried to watch Doctor Strange and got bored. Insufficient action, excessive Orientalism. Although I kinda liked the librarian.
2 There have definitely been ninja nuns. Check out Catalina de Erauso, aka La Monja Alférez, aka the Lieutenant Nun, for one sterling example.
3 Romance 42, "A la misma señora (la Condesa de Galve), en ocasión de cumplir años." 55-56 in the Obras Completas. By Juana Inés de la Cruz.
4 This is, in case you're wondering, quite true.
5 They include people like Nicolás Augustín Metoyer of Louisiana, mentioned in this article by Henry Louis Gates, Jr. and in this article from the Washington Post delving into the Metoyer family's history.
6 Incidentally, Juan Garrido had slaves, at least occasionally, as mentioned by the National Park Service. He was also not the only person of African descent to be in the New Spain region, not by a long shot—there were many other explorers, including Esteban Dorantes. Meanwhile, while there are Afro-Mexicans, Mexico has only recently started officially documenting its citizens of African descent, as discussion in this Huffington Post article; meanwhile, Afro-Mexicans have been deported and forced to sing the national anthem because people don't believe they are Mexican, as discussed by the BBC here.
7 Dutra, having managed to to buy his freedom and his wife's, set out buying himself a number of slaves, including some (I think the musicians were among this number) whom he rented out to make more money. You can learn more about Dutra in Dutra's World.
8 Romance 42, "A la misma señora (la Condesa de Galve), en ocasión de cumplir años." 55-56 in the Obras Completas. By Juana Inés de la Cruz.
9 I am definitely no expert on ladies in waiting or anything they do. ¯_(ツ)_/¯ These are some pretty good resources about them:
10 Also a line from a poem! This one was written to commemorate the death of the Marquesa de Mancera, our own Leonor Carreto de Toledo. It is the third section of a longer sonnet: "En la muerte de la Excelentísima Señora Marquesa de Mancera." Here's the stanza from which lágrimas negras hails:
Muera mi lira infausta en que influíste

ecos, que lamentables te vocean,

y hasta estos rasgos mal formados sean

lágrimas negras de mi pluma triste.

Juana Inés de la Cruz, from "En la Muerte de la Excelentísima Señora Marquesa de Mancera," 155-156 in the Obras Completas.
11 All I could think of was this trope, largely because of the way it was handled (and the way Juana Inés has skirted race through both "Miradme Al Menos" and "Para el alma no hay encierro").
For More Information
---
Suggested Reading
Cruz, Juana Inés de la. The Answer/La Respuesta, trans. & ed. by Electa Arenal & Stephanie Powell. 2nd ed., The Feminist Press at the City University of New York, 2009.
Cruz, Juana Inés de la. Obras Completas de Sor Juana Inés de la Cruz. Porrua, 2007.
Mann, Charles C. 1493: Uncovering the World Columbus Created. Random House, 2011.
Paz, Octavio. Sor Juana Inés de la Cruz: O, Las Trampas de la Fé. 1982. Fondo de Cultural Económica, 1995.
Paz, Octavio. Sor Juana Inés de la Cruz: Or, the Traps of Faith.
Reséndez, Andrés. The Other Slavery: The Uncovered Story of Indian Enslavement in America. Mariner Books, 2016.
Restall, Matthew. Seven Myths of the Spanish Conquest. Oxford, 2003.
Warner, Marina. Monuments and Maidens: The Allegory of the Female Form. University of California Press, 1985.
---
Episode II: Para el alma no hay encierro