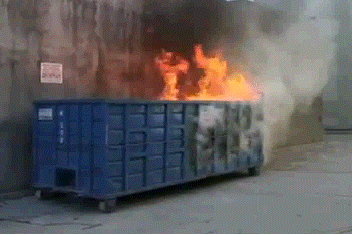 It's almost the end of this trash-fire year! Which means we get to embark on a whole new trash fire, far, far too soon. So, this burning year from hell is about to end (and merge into more hell, unless there's a miracle). But, if you are here, you presumably care about human rights, and about people who might not look like you. You might even want to have young folks in your life read about great moments in American history, such as the civil rights movement and the women's rights movement and the recently gutted Voting Rights Act, which was, while we had it, a shining testament to what we could be as a country.
Interested in last-minute, socially conscious reads that are also fun and engaging? Have no fear! There are booklists aplenty to help with your selection. The Cooperative Children's Book Center—the very place where my grandmother long did cataloging—has compiled an incredible list of "50 Books About Peace and Social Justice." They range from picture books for munchkins to early and middle grades, on up to high school. Many—maybe even most—of the books on the list are real, actual award winners, too. And many deal with histories, often dark ones, in which young people took a stand. Sometimes it cost them a lot—think of the White Rose. Sometimes it cost them liberty, at least for a time, but not life (see the young folks behind the Churchill Club). And, often, they were the only people to take such a stand, and, by their daring, helped sway the course of history. And did you know that before Brown v. Board of Education there was Mendez v. Westminster? Sylvia Mendez was only eight years old when she became the face of that early step on the fight for integrated schools, yet another reminder of the incredible bravery of young children in this ongoing fight for equality.
Working with really young kids? A lot of the books on the CCBC list, ranging from Last Stop on Market Street and Drum Dream Girl to What Does Peace Feel Like? and Each Kindness, are definitely for the wee ones—just check the suggested age ranges, which the CCBC, naturally, includes. But are you interested in even more suggestions for the picture-book set? Well, no worries. Despite part of its machinery clanging to appeasement, ALA is a vast creature of many parts. One of said parts, the Association for Library Service to Children, or ALSC, has released its own booklist, called "Unity. Kindness. Peace." It's available as either a webpage or a pdf, and, from what I can tell, all the included books both encourage empathy and are geared towards the young. We none of us, I think, want to see an uptick in bullying—yet are very much seeing such an uptick. Need I remind anyone, as someone who still has scars from bullying, that it is profoundly damaging? That its scars sink deep and last forever?1
Teens and Up (Or, the Bulk of This Document)
Looking for books for teens and adult people? Again, the CCBC has some really amazing suggestions. I have additional suggestions. Many of the authors listed—those I know best include Matt de la Peña, Margarita Engle, Jacqueline Woodson, Sherman Alexie, Sharon Creech, Randa Abdel-Fattah, Sharon Flake, Walter Dean Myers, Jason Reynolds, Ruta Sepetys, and Marjane Satrapi—write extensively on themes pertaining to human rights. Sandra Cisneros, she of The House on Mango Street, is another excellent choice. (I love Mango Street; I also own Woman Hollering Creek, which I think is marvelous—I am a fan of vignettes and of short stories.) Kekla Magoon consistently tackles hard topics; she even has a pair of books—The Rock and the River and Fire in the Streets—about race, gender, and politics in 1968 Chicago, following the assassination of Martin Luther King and around the time of the infamous convention.
Did you know Asian-Americans have been a part of the United States for a long, long time? Stacey Lee's award-winning novels, including Outrun the Moon, about a Chinese-American teenager working her way up through the social strata in San Francisco at the time of the earthquake, and Under a Painted Sky, about two girls—one Chinese-American, the other African-American—who work together to survive the Oregon Trail, cover some of this history, bringing to light contributions of people many of us never thought were there at all. (A reminder: Asians—largely Chinese—worked on the railroads alongside my Irish ancestors.) The Secret of a Heart Note is coming soon; it appears to be contemporary magical realism, and, I'm glad to say, it's already been well-reviewed, by no less than Kirkus and Publishers Weekly.
Martha Brockenbrough's The Game of Love and Death is, at first glance, perhaps an odd suggestion: it is a fantasy, a high-stakes "game" played by Love and Death, immortals who chose their players…and set them against one another. It is Seattle in the 1930s; Henry, a young white man, and Flora, a young African-American woman, are their unwitting pawns. They must choose each other, and love…or one must die. In the midst of this rather horrifying game, the reader learns a great deal, both about the place and the time and about racism, sexism, and constructions of gender (check out Henry, who is a sensitive, gentle sort of guy). I will, for once, spare you the total spoiler; I'll just say that this book, which has won its share of awards, made me cry. A lot. It probably sounds like a horrifying premise, but, goodness, what a lovely book.
Similarly, Anna-Marie McLemore's The Weight of Feathers is a strange, lyrical fantasy, one delving deeply into belonging, hate, love, and bigotry. The feud between Palomas and Corbeaus seems almost mythic, a thing of legend, living and awful, feeding on the irrationality of generations, yet Lace Palmoa and Cluck Corbeau are drawn together against all odds and despite the years of hate that should simmer in their blood. They move through a world that is like and yet unlike ours, filled as it is with casual magics; but the hate and bigotry and irrationality with which they must contend is something all of us will know, all too well.
Looking for love stories? Jenny Han is a great place to start. Sara Farizan's Tell Me Again How a Crush Should Feel features the coming of age of a young woman of Persian background who is interested in girls (and worried about what will happen should it get out to her classmates); Becky Albertalli's award-winning Simon vs. the Homo Sapiens Agenda, a particularly sweet romance, deals with bullying, race, and class, as well as homophobia. (And it ends happily! Promise!) Aristotle and Dante Discover the Secrets of the Universe, by Benjamin Alire Saenz, has come to me highly recommended by the teens for whom it was written.
The Blacksad series, graphic novels featuring a hard-boiled anthropomorphized black cat detective named Blacksad, are hard and intense and beautiful, homage to the old noir school and also a testament to the ways in which we can incorporate history and social commentary into graphic novels featuring talking, suit-clad animals. While I suggest all the Blacksad novels, starting at the beginning—because I always start that way—Arctic Nation, with its emphasis on the horrors of racism and segregation, is particularly chilling and apropos.
There are also, maybe in the vein of The Weight of Feathers, dark love stories. Libba Bray's Diviners series—The Diviners, followed by Lair of Dreams, with more, eventually, to come—follows a diverse group of "diviners" as they work together against rising evil…but, since they are a diverse group, our heroes must also contend with the daily evils of sexism, racism, and homophobia, among other petty human hates. Leigh Bardugo's shattering Six of Crows duology—Six of Crows followed by Crooked Kingdom—pits a diverse group of "criminals"—including a dyslexic—against a corrupt merchant class, grown fat and venal on the spoils of their ill-gotten gains. (I'd argue that the "crooked kingdom" of the title could very well refer more to those venal merchants who abuse their labor.)
Cat Winters' The Steep and Thorny Way is a retelling of Shakespeare's Hamlet. The heroine's African-American father, murdered, walks the crossroads, seeking justice and his daughter's safety; the man accused of his murder escapes, and tells his daughter, a biracial girl in a racist town, that he is innocent: the Klan is behind her father's death. The darkening atmosphere balances with our protagonists, who must outrace time and try to hide from the KKK to find out what really happened. Even darker is Out of Darkness, Ashley Hope Pérez's award-winning novel built around a historical school bombing in Texas. A word of warning: while the protagonists are sweet, and deeply in love, this one is a tragedy. (Pérez has other books that are not quite so tragic; they all look pretty good.)
The newest Captain America on the block, Sam Wilson, must also make an appearance; he is a true Captain America of our age, like Luke Cage a heroic Black man, standing, as it were, not only for that old, trite saying of truth, justice, and the American way, but for an American way that includes liberté, égalité, and fraternité: one in which racism will surely one day fall beneath his boot—or perhaps beneath Misty Knight's. M. Willow Wilson's Ms. Marvel features another bright young hero, Kamala Khan, Pakistani-American teenager by day, superhero by night. There's the new Black Panther…and the Avengers have assembled to fight white supremacy. (I think I am going to just go ahead and order that one, actually.)
And, on this theme of superheroes who look like the country at large (check out the adventures of Super Indian while you're at it! And, coming soon, a whole comic book about Choctaw code talkers!), don't forget mild-mannered Hank Chu, just trying to do his thing in China Town, LA…while being a superhero at night. Gene Luen Yang has told his story in The Shadow Hero, and it is definitely worth a read. Hank is heroic and an angsty teenager…and he must contend with racism and even class issues as he navigates both his day-time life and his superhero world, into which his mother, who has a thing for superheroes, has thrust him. (Well, also an old deal his father made—but you'll have to read it to find that part out.)
Shadow Hero is really important to me for a couple of reasons. The first is super simple and not deeply emotional: I liked it. The second is deeper, harder to explain, and deeply emotional. The building of my childhood was quite diverse; if it was majority-anything, it was majority-Asian—but there the majorities tended to fall away, as there were people from India, Bangladesh, Pakistan, China, Taiwan, Korea, Mongolia, Indonesia, the Philippines. I didn't realize, because I was a clueless kid, that there was anything unusual about this; it was something I accepted, just like I accepted the decades-long cold war between my grandmother and her next-door neighbor. I was pretty old—I think I was in high school—before I ran into anti-Asian slurs for the first time. I was, in short, pretty clueless about what Yang describes in his brilliant, moving graphic novel American-Born Chinese. In truth, in case you're wondering, I still feel badly that I was so clueless about what my best friends must have been living. Never again, guys.
There are so many more books than what I have listed here; so many authors, to be discovered, read, and cherished. As a Hyde Parker, my America doesn't look like this country of which I've heard too many, lately, speak; I would argue that what makes us great—if, indeed, we are great—are all the threads that make up the tapestry that is us. Tapestries are amazing things, you know: textile art of the highest order, in which every single yarn is chosen with care, and every single piece tells its own story. At a glance, unless one knows something about fiber arts, one probably won't even notice all the variances that make up a great tapestry. But up close, on careful inspection, one might begin to see.
Fiber art: Peruvian Chimu Mantle, possibly c. 1000-15th century. Wikipedia.
I've never cared for the "melting pot" analogy; everything melted together is ugly. But, fashioned as a sort of tapestry, well, our differences make us stunning. And so I present this incomplete list of books which delve into, and celebrate, so many of the threads that make up our American tapestry.
Happy Endings for Teens and Older
Everything sucks; perhaps you only want to read super-happy stuff set in our super-diverse and beautiful world. Maybe some of these will fit the bill.
 Additional Resources
---
1 For more information on bullying, see any or all of the following studies: